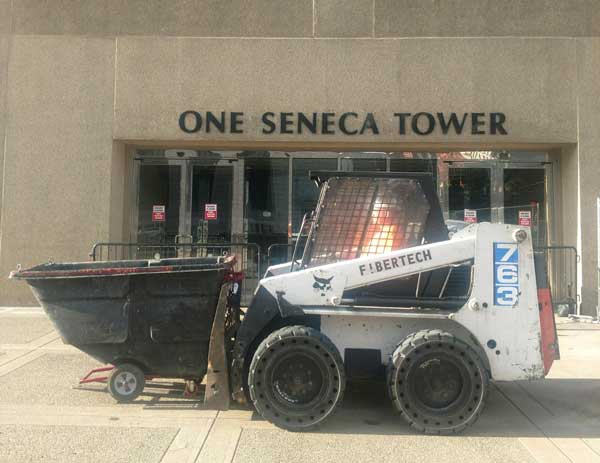 Seneca One Tower
Asbestos abatement, interior demolition, complete gutting of floors (including cuts in concrete as thick as 3 feet), and deconstruction of massive safes located throughout the former HSBC building. Fibertech has been a key player in meeting an aggressive schedule allowing Douglas Development to redevelop the 38-story tower into a mixed-use project with a focus on high technology tenant.
Over 20 years of experience in the removal of a wide variety of both friable and non-friable asbestos containing materials from commercial and private buildings (including schools, grades K-12).
We have the insurance, equipment, knowledge and workers trained to remediate a number of hazardous materials from commercial and private buildings including PCB caulk, PCB transformers, lead, mercury, mold and many other potentially hazardous contaminants.
Capable of providing the crews and equipment required to perform interior demolition that is very often associated with an asbestos abatement or hazardous remediation project.  Also, we often perform asbestos abatement prior to a demolition as required by NYS.
"I believe that our relationship has flourished over the years because both companies believe in core values, one of which is the devotion to the safety of our employees and also the commitment we both have to the bottom line of our clients."
Marty Schneider
"Fibertech Environmental has been a customer of Waste Management for the past 16 years. I have always found them to be an ethical company and part of the system that provides environmental solutions for disposal needs."
Coleen Strasser
"Dan did a great job with the project!  Really a nice, honest guy.  Wanted to say thank you for a great job. Very refreshing to work with.  Thanks so much."
Robert A. Musarella, Jr.
"I have been doing business with the Haynes Brothers and Fibertech Environmental Services for 15 years. They have always been men of their word, completing jobs on time and on budget. I congratulate Pat & Jeff on 20 years of successful business. I watched them grow Fibertech from a home business in their attic to a multi-million dollar company."
Anthony Trusso
---
Get In Touch.
If you are interested in working together, send us an inquiry and we will get back to you as soon as we can!
Contact Us